The terrifying story of how a former French butcher earned millions from selling faulty breast implants made from mattress filling
Undercutting competitors was not Mas's only business technique. In 2000, following an inspection, the U.S. Food And Drug Administration (FDA) sent Mas a strongly worded letter listing 11 'deviations' from 'good manufacturing practices'.
Although not sufficient to warrant being closed down, the inspectors were concerned that the firm's saline implants — as opposed to the silicone ones at the centre of the current health scare — were 'adulterated'.
By 2007, the company posted significant losses, as customers and distributors filed a number of complaints that cheaper implants could rupture and leak.
By Mas's lawyer's own admission, the firm's use of an inferior silicone gel that had never been approved for medical use was done simply to meet 'economic objectives'.
He conceded that the 'high end' implants (made with medical silicone) were sold to richer customers — such as those who live in the wealthy '16th arrondissement', while the 'simple, house gel' prostheses were intended for the less well-off.
He said Mas remains adamant that the cheaper gel isn't dangerous and the inferior implants are not more likely to leak than others.


27/11/2011
After the death Monday in Marseille Edwige Ligonèche, who had developed a lymphoma cancer type and that was faulty breast implants Poly Implant Prosthesis (PIP), Le Parisien today revealed two disturbing cases that could be related to these implants. Another woman, who was wearing PIP implants developed lymphoma, according to Le Parisien. A third victim, she has discovered that the pocket of these fake breasts was broken when she consulted a surgeon for pain. The specialist then tells him that the silicone gel had spread in his body, to the clavicle, between the breasts, to the coast. Dr. Denis Boucq who support "thinks now that under the precautionary principle it is better reoperation all women who had a PIP implant. "A shared by Alexandra Blachère, the president of the association of victims of PIP implants that demand in Le Parisien that" 30,000 women with implants are all reoperated 'notice. It also calls for the creation of a compensation fund for victims.

Read nore
PIP BREAST IMPLANTS: NEW CASES OF BREAST CANCER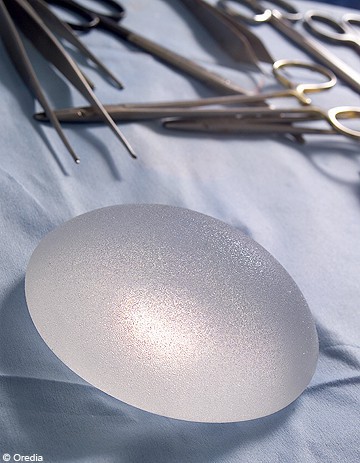 12-12-2011 A new case of breast cancer in a patient with PIP implants has-been reported about to the French Agency for Sanitary Safety of Health Products (AFSSAPS). This is the fourth known case Among carriers of the defective implants off the market in March 2010. "This case of breast cancer, All which is not a lymphoma (a tumor rarely) tumors WAS reported about a patient by Toulon, "Said Jean-Claude Ghislain Monday, director of assessment of medical devices to AFSSAPS. industrial use and not medical Prosecutors in Marseille HAS opened a criminal investigation against X for "last Thursday manslaughter and involuntary injury" According to a new lawsuit, filed by the mother of a carrier of These prostheses, died of cancer in 2010 in the Gers. Approximately 30,000 women in France always wear prostheses and thesis Nearly 1,400 complaints filed with the Were prosecutor of Marseilles. It was the silicone used, established That Was Not Intended for medical use, industrial purpose, Where gelation Promoting leakage through the implant shell May weaken and break up. Preventive Withdrawal Patients' shoulds always receive a Appropriate physical examination and radiological examinations, "According to AFSSAPS. "Any rupture, suspicion of rupture or oozing of a prosthesis shoulds icts lead to explantation, and That of the second prosthesis," she adds. Furthermore, the reassignment of this prosthesis "even without clinical signs of deterioration of the implant "should be discussed

.

Read more



Don't panic about breast implants, says France as it's revealed U.S. warned manufacturer 10 YEARS before scandal broke

28 December 2011
France's health secretary has appealed for calm in an attempt to quell growing fears over breast implants that have been sold to countries including Britain.A global search is continuing for Jean-Claude Mas, the 72-year-old former butcher who founded PIP.
It has emerged that in 2000 the U.S. Food and Drug Administration warned him about 11 deviations from 'good manufacturing practices' at PIP's plant in La Seyne-sur-Mer in the south of France.Poly Implant Prothese (PIP) was told in 2000 that its saline implants were 'adulterated' - a decade before it came under scrutiny from European regulators for its silicone implants. More than 300,000 women who received the company's silicone implants, which were ordered off the market in 2010, have already been told they are at risk.In a warning letter to company founder Jean-Claude Mas it said there were 11 deviations from 'good manufacturing practices'. Dated June 22, 2000, it cited PIP's failure to investigate the deflation of its saline implants and a failure to report more than 120 complaints in France and elsewhere to the FDA. Read more


PIP prostheses: a secret report released ANSM March 2014
AFSSAPS could have reacted in 2007. Stopping marketing of breast implants PIP was decided in March 2010, when AFSSAPS found during an inspection that the gel used was different from that mentioned in the regulatory dossier. Between 2007 and March 2010, an estimated 6,445 to 10,466 women are made implant (representing one third of carriers of PIP implants).The critical report released by Mediapart also denounces the harmfulness of this gel in the implants and the lack of data on the manufacturing process, its physico-chemical characterization and hazard assessment. Preventive withdrawal have been proposed since 2010. Explantation But the recommendation was not given until the end of 2011, says the Agency medical press.Finally, Mediapart accuses the agency have "redacted elements that pointed to significant breaches of management by AFSSAPS the PIP case" in the official report submitted in February 2012 (two months before the submission of the report remained confidential) to the Minister for Health at the time, Xavier Bertrand
In particular, it would not have contained data for Material provided by the manufacturer but only reports of health professionals, or the extensive toxicology data collected by the agency showing for example the presence of a high content of toxic gels in the PIP.

Read more